REVIEW – Bibigo Chicken & Cilantro Mini Wontons from Costco (Frozen)
July 23, 2016 |
5 Comments
My boyfriend and I tried some of these frozen Bibigo mini wontons from Costco. We tried cooking a few the easiest way first -- using the microwave. Of course, you can also pan fry, boil, or add it to a soup! We microwaved 6 of them wrapped in a wet paper towel for about a minute (The instructions state to microwave 12 for 1-2 minutes). They came out alright with the exception of a few spots that were a little dry.
The wontons weren't tiny, but they were mini (maybe about 2 in x 1 in). They taste just like wontons with a more dominant green onion taste. They also taste similar to the taste of Korean Mandu (dumpling). The texture was good -- although it can be a little dry microwaved, if your wet paper towel doesn't fully cover them.
We also tried some of the wontons with a spicy noodle soup. The noodle soup was microwaved, and when there was ~two minutes left, we added 6 wontons to it. It turned out very nice!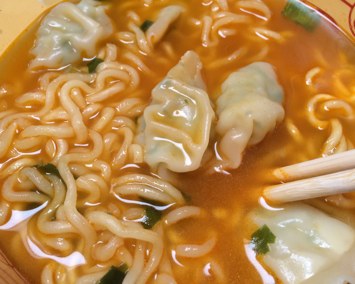 Bibigo Mini Wontons in a noodle soup
My boyfriend preferred the wontons in the soup rather than microwaved on their own, while I enjoyed them both ways. We both liked the taste, and it was a pretty good snack!
Food:
Fully Cooked Bibigo Mini Wontons, Chicken & Cilantro (Frozen)
Source:
Costco, Tucson, AZ
Rating:
Good
Related