REVIEW – U-Like Asian Buffet (Tucson, AZ)
February 17, 2012 |
Post a Comment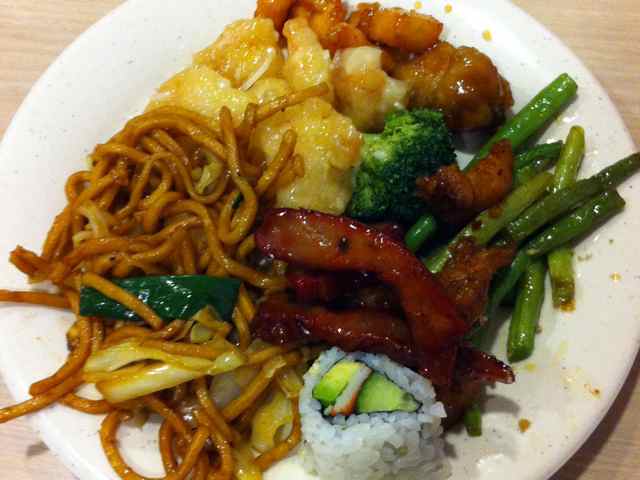 U-like Asian Buffet on Wilmot Road (Tucson AZ) is now open near the Park Place Mall. I've been driving past its "Coming Soon" sign for several weeks now, and I decided to try it now that it is open.
Apparently, it is owned by the same person who owns the New China Super Buffet (also located on Wilmot). The U-Like Buffet felt like an upgraded version of the New China Super Buffet and builds on its strengths. ULike Buffet was much nicer inside with a nice fountain in the front, a more modern decor, and an open floor plan.
Some of the foods were similar to the food at New China Super Buffet, but they did have some different dishes. A lot of the foods were still on the oily and sweet side, as with most Asian buffets, but everything was still pretty good.
I really enjoyed the "spicy chicken" and the thick noodles they had. They also had batter-fried coconut shrimp, which were deliciously sweet and kind of crispy on the outside. It tasted similar to Panda Express's honey walnut shrimp without the walnuts. I was very happy to see they had mussels that weren't covered in cheese (unlike at New China Super Buffet).
There was also a Hibachi grill and sushi bar. The sushi seemed pretty well refrigerated, as it was sitting on a bed of ice. There was a big boat that had the desserts and the Hibachi fixings on top. Next to the boat, there was an ice cream chest freezer, where you could scoop out your own ice cream. There were 4 different types, and I tried the vanilla & chocolate. The vanilla was OK and was a little sweeter than other vanillas I have had, while the chocolate ice cream had the taste of a fudge bar in ice cream form.
Overall, the food I tasted was pretty good, and it was a step up compared to New China Super Buffet.
Update (July 2015): Unfortunately, it seems U-Like Buffet's food is going downhill. The last time I went there the food wasn't as great. The sauce on their chicken with broccoli was a gross, thick, white sauce that didn't add any flavor. Their spicy chicken was all hard (right after they added a fresh batch), making them practically inedible. After adding a fresh batch of green beans, some of their green beans were very stringy and woody. We may go there again in a few months and see if they are continuing to go downhill or if this was a one-time fluke.
Related