REVIEW – Firebirds Wood Fired Grill: Mixed Green Salad with Wood Grilled Chicken
February 12, 2012 |
Post a Comment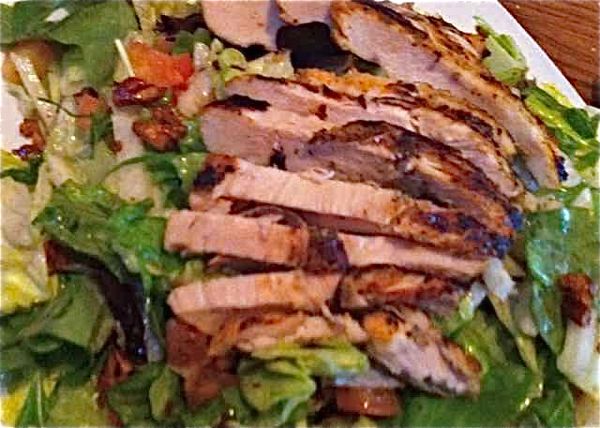 I went to Firebirds, and I tried a mixed green salad with wood grilled chicken added to it.
The grilled chicken on the salad was delicious. It was very well seasoned, and it tasted great. The chicken was also tender and juicy and not dry at all.
The salad came with lettuce, diced tomatoes, sugar roasted pecans, and jicama. I usually ask for dressing on the side with my salad, but this time I forgot to, and the salad came too overdressed with the cilantro-lime vinaigrette. It started out tasting OK, but after eating the salad for a while, it became soggy, and the sweet, limey taste was overpowering. I liked the taste of the dressing, however, there was just way too much of it. Next time, I will definitely not forget to ask for the dressing on the side.
Food:
Mixed Green Salad with Wood Grilled Chicken
Source:
Firebirds Wood Fired Grill, Tucson, AZ
Price:
$12.00 ($7.00 salad, $5.00 chicken added)
Rating (Wood Grilled Chicken):
Delicious
Rating (Salad + Dressing):
Blegh
Related