REVIEW – Soho Japanese Bistro (West Chester, OH): Chicken Teriyaki & Shrimp Tempura Bento Box
June 23, 2015 |
Post a Comment
My mom took me out to eat at Soho Japanese Bistro for lunch. We came at 12:30 pm on a Tuesday, and it was very empty; there were only two other parties at the restaurant. Although it was a sunny day, it was pretty dark inside of the restaurant.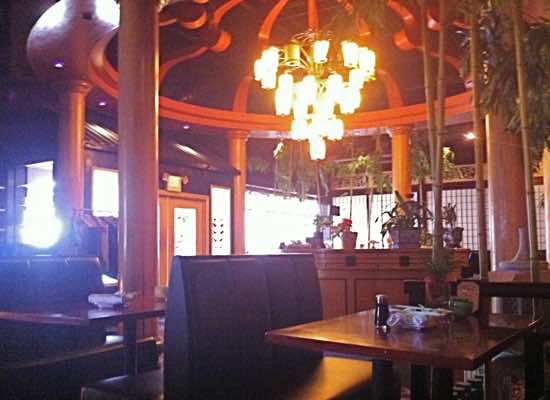 Inside of Soho Japanese Bistro
I ordered a bento box combination lunch meal, which comes with the following:
Miso soup
Small House salad
A Choice of Two: Chicken Teriyaki, Salmon Teriyaki, Strip Steak Teriyaki, Pork Katsu, Chicken Katsu, Shrimp Tempura, Vegetables Tempura, Gyu ni [sic] (I chose chicken teriyaki & shrimp tempura)
Steamed Rice or Fried Rice (I chose steamed rice)
Spicy Tuna or California roll (I chose California roll)
The food was served to us pretty quickly. I guess it was good it didn't take a long time, considering there weren't many customers there.
The miso soup and house salad was given to us before the meal. The miso soup contained tofu and seaweed and had a good savory flavor, although it was a little on the salty side. The house salad had lettuce with onions, carrots, and tomatoes, along with a few wilted leaves. It was a decent size for being just a side salad. The salad dressing tasted like Thousand Island or something similar, and it wasn't overdressed.
From my bento box, the chicken teriyaki was a little dry even though it had teriyaki sauce. The sauce was a little sweet, but maybe also a little salty. It tasted mostly bland to me. It also came with noodles that had a texture more like spaghetti than Asian noodles.
The California roll was a decent size, the avocado was fresh, and it tasted pretty good. I also had a taste of my mom's salmon nigiri sushi, which seemed nice and fresh, and it was a pretty decent size.
The steamed white rice was a sticky rice, and some of the rice was a little hard. It had a weird taste... maybe buttery or oily, but I didn't like it.
I ate my shrimp tempura last, which I guess was a good thing, because they asked if I wanted any tempura sauce toward the end our meal. I definitely needed the sauce because, while the shrimp tempura was nice and crispy, it didn't have much taste. The sauce wasn't delicious, but it helped give more flavor to the shrimp.
Food:
Bento box lunch combination with chicken teriyaki, shrimp tempura, steamed white rice, and California roll
Price:
$13.00 for bento box lunch combo
Source:
Soho Japanese Bistro, West Chester, OH
Rating (Miso soup):
OK
Rating (House salad):
OK
Rating (Chicken teriyaki):
OK
Rating (California Roll):
Good
Rating (Salmon nigiri sushi):
Good
Rating (Steamed white rice):
Blegh
Rating (Shrimp tempura):
OK
Related