REVIEW – China Joy in Carefree, AZ: Kung Pao Chicken Lunch Special
May 9, 2014 |
Post a Comment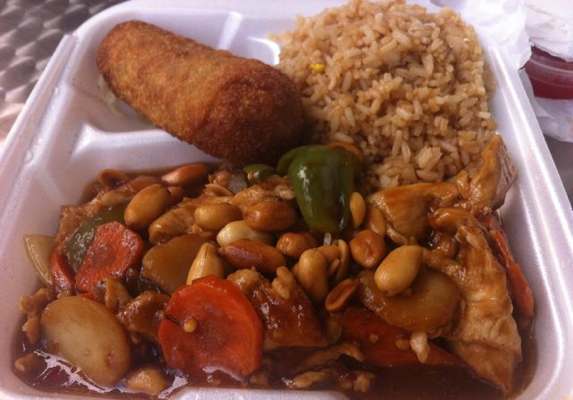 I ordered a Kung Pao Chicken Special to-go from the China Joy restaurant in Carefree, AZ during their lunch hours (11:30 am - 2:30 pm). When I ordered over the phone, the woman that answered stated the food would be ready in 10-15 minutes. I got to China Joy about 20 minutes after ordering and the woman at the counter said she thought I had forgotten to pick up the food, which was kind of annoying.
Anyway, when I ate the Kung Pao chicken, it was just a wave of salty flavor masking a little bit of spiciness. The best tasting parts of the Kung Pao chicken dish were the carrots because the sweetness from the carrots offset the saltiness of the sauce.
The fried rice was just brown rice with a tiny amount of fried egg, and its dominant flavor was also saltiness. The egg roll was a vegetable egg roll and was the saltiest of the three items. The wrapper on the egg roll was also a little doughy.
The lunch was nothing special, and everything just tasted salty.
Food:
Kung Pao Chicken Lunch Special
Source:
China Joy, Carefree, AZ
Rating (Kung Pao Chicken):
OK
Rating (Fried Rice):
OK
Rating (Egg Roll):
OK
Related