REVIEW – Trader Ming's: Kung Pao Chicken from Trader Joe's (Frozen)
January 16, 2015 |
Post a Comment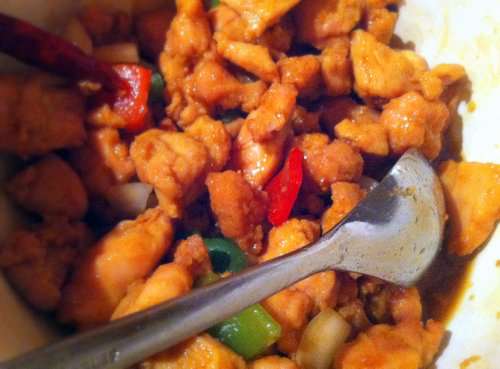 We tried some of Trader Joe's frozen Kung Pao chicken. The bag of Kung Pao chicken came with different packets, which included a big packet of the chicken, a packet of vegetables, two sauce packets, and a packet of peanuts. That turned out to be pretty good for us because I don't like peanuts mixed in with Chinese food, but my boyfriend does.
I warmed up the frozen chicken following the microwave instructions since it's easier than using a stovetop. I microwaved the chicken in a bowl covered with a paper towel for 3.5 minutes. Then I added the vegetables and mixed them in with the chicken (even though the instructions didn't say to mix them yet) and microwaved them for 2 minutes.
I ran one sauce packet under some water so that it was easy to get out of the packaging and added the sauce in. I used only one sauce packet since one packet had a lot of sauce, and I can also use the remaining packet to add to something else in the future. After mixing in the sauce, I microwaved it all for one additional minute, and it was done!
The texture of the chicken was a little spongy but not too bad. The sauce was a little spicy from the chili peppers, but it was more sweet than spicy... kind of like a sweet soy sauce. The sauce was also a little watery, but for me that's better than being too thick. I also only used one sauce packet so perhaps using two packets might have thickened the sauce up.
There weren't a lot of vegetables so I added some steamed broccoli to my plate and mixed them in, and that worked out pretty well. Overall, it was pretty good, and I would buy it again if I was in the mood for some easy-to-make Chinese-ish food.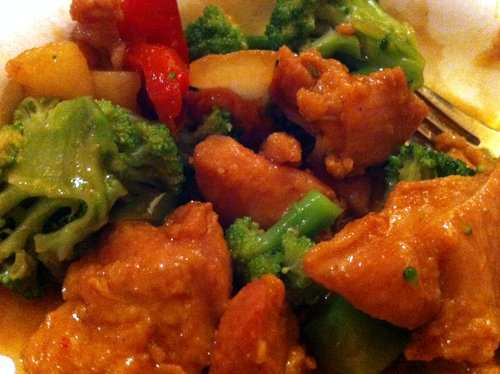 The Kung Pao chicken with steamed broccoli added in.
from Trader Joes
Related