REVIEW – Pizza Hut: Sausage Italiano Pasta
March 4, 2012 |
Post a Comment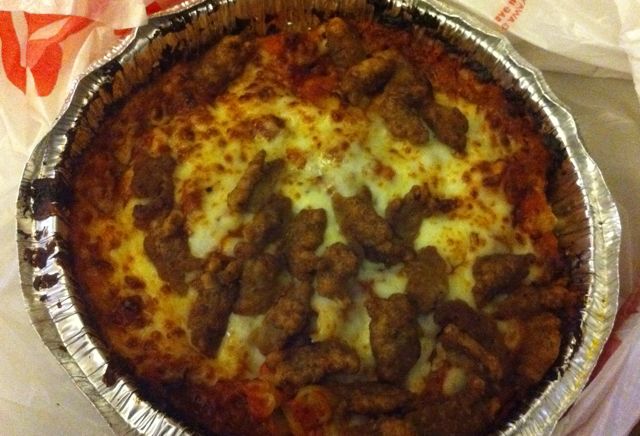 We ordered some Sausage Italiano Pasta as carryout from Pizza Hut.
The pasta was not very sweet, which is what I really liked about it. I don't like sweet pastas, and I have a hard time finding pasta sauces that aren't sweet. I've tried the 'meaty marinara' pasta from Pizza Hut before, and that was disgustingly sweet, so I was very happy that this was not the case with the sausage italiano pasta.
I liked the sausage chunks in the pasta, as the savory taste of sausage was perfect with the pasta. I also really enjoyed the melted cheese. However, there was also ground beef in the pasta, and the texture of the ground beef didn't really go so well with it.
This is probably my favorite type of pasta from Pizza Hut, so I don't like that they don't have a family size portion of this pasta, and they only have it in individual size. I also don't like that when they have a pasta deal, they don't let us apply the pasta deal to sausage italiano pasta.

But anyway... overall, the pasta was pretty good. If they took out the ground beef from the pasta and maybe added more cheese, then I think it would be perfect.
Food:
Sausage Italiano Pasta
Source:
Pizza Hut, Tucson, AZ
Price:
$7.99 (Only comes in Individual Size)
Rating:
Good
Related