REVIEW – Five Guys Burgers & Fries: Cheeseburger and Fries
January 18, 2012 |
Post a Comment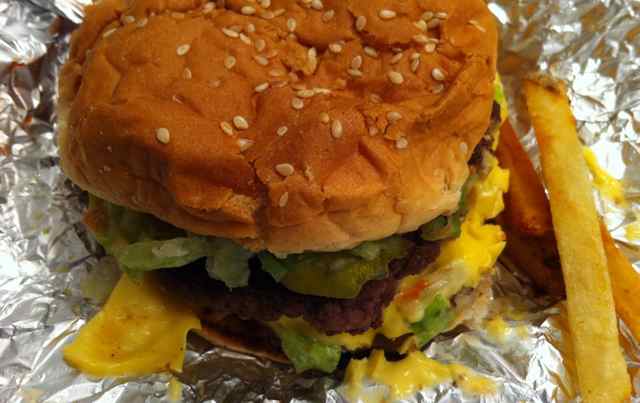 I ate at Five Guys and had a cheeseburger (comes with two burger patties) and fries, along with the free peanuts they have.
The burger was pretty good because you can choose your own toppings. My toppings consisted of cheese, raw onions, pickles, and lettuce. It was delicious, however, the top bun was a little too crispy and toasted for me this time I went there. The bottom bun also gets soggy if you let the burger sit around too long.
The fries were soft, delicious, and had a nice potato taste.
The free peanuts were a little salty, but they were still pretty good.
Update (2013): I have been to Five Guys several more times with my boyfriend since my original review, and it is really delicious every single time. I have been to a few different Five Guys restaurants, and they have always been very consistent. I usually get their "little" cheeseburger (instead of their regular one) because the little cheeseburger is the same size but only has one burger patty, instead of two. Five Guys has definitely become my favorite fast-food burger restaurant.
Source:
Five Guys Burgers & Fries, Tucson, AZ
Food:
Cheeseburger (with raw onions, pickles and lettuce)
Price:
$5.59 with free toppings
Rating:
1st try - Delicious, multiple tries - Super Delicious
Food:
French Fries
Price:
$4.49 (Large size)
Rating :
Delicious
Food:
Peanuts
Price:
Free
Rating :
Good
Related