REVIEW – Gourmet Dining: Chicken Stir Fry (Frozen Package) from Fry's/Kroger
July 1, 2014 |
4 Comments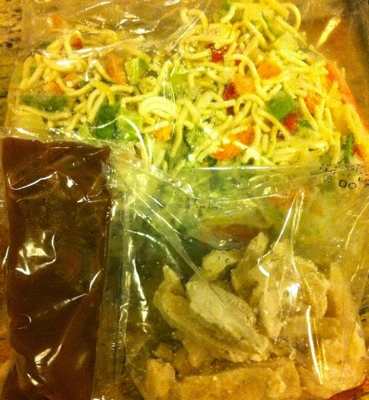 I was looking for a frozen stir fry with noodles to cook, and I found this one at Fry's (Kroger).
The package came in three smaller packages of the noodles + vegetables, Teriyaki sauce, and chicken.
The instructions on the back of the package said to cook the stir fry for 7 minutes on a covered skillet, but I ended up cooking it for 2 minutes longer because I didn't have a cover and kept thinking the chicken might not be cooked enough... so it might have ended up overcooked a little bit.
The finished product still tasted pretty good for a frozen stir fry. The Teriyaki sauce was lightly sweetened and went perfectly with the vegetables and chicken, and the taste wasn't overbearing (or too minimal). The chicken was good and wasn't dry, but the vegetables ended up a little bit mushy (perhaps because I cooked it for longer than 7 minutes).
Food: Frozen Gourmet Dining Chicken Stir Fry from Fry's/Kroger
Source: Fry's Food & Drug Store (Kroger), Tucson, AZ
Rating (Noodles & Sauce): Good
Rating (Chicken): Good
Rating (Vegetables): OK

Related