REVIEW – Trader Joe's: Spring Onion Rice Noodle Soup Bowl
June 2, 2014 |
1 Comment
For preparing this spring onion rice noodle soup bowl from Trader Joe's, I added in all the seasoning from the packet, however, I only put in a little bit of the optional oil that came with it.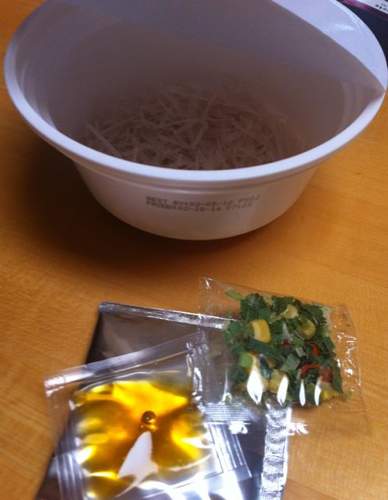 I followed the microwave instructions that stated to pour water to the lower inside ridge and microwave the bowl for 2-3 minutes. I microwaved it for 3 minutes since 2 minutes didn't seem like it would be long enough, and it came out fine.
The soup base was a little bit sweet, and it was also a little peppery, but I liked that neither the sweetness or peppery-ness was overbearing. The texture of the rice noodles was also good and went well with the soup taste.
The overall taste and texture of the noodle soup bowl was better than the average non-ramen noodle bowl from a grocery store.
from Trader Joes
Related