REVIEW – Chilean Sea Bass from AJ's Fine Foods with French Green Beans & French Baguette from Trader Joe's
February 15, 2012 |
Post a Comment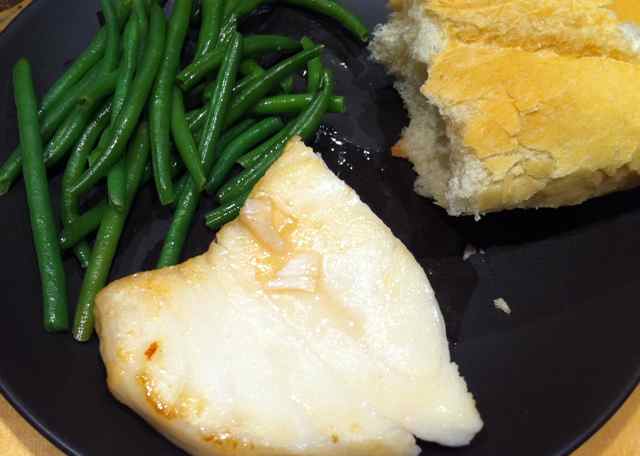 For our Valentine's Day dinner, we cooked some frozen Chilean Sea Bass (aka Patagonian Toothfish) from AJ's and had it with French green beans and a French baguette from Trader Joe's.
How we cooked the 1 lb of Chilean Sea Bass:
We cooked the fish in a foil pan and also covered the pan with more foil. We cooked it on a 3-burner gas grill with the grill cover closed for about 8 minutes (4 minutes on each side). We put it on top of the middle burner which was off, while the left and right burners were on high. The sea bass was delicious. It was very soft, moist, and flaky. It was probably the tastiest fish I have ever had. It also had a strong fishy smell, which I love.
Trader Joe's French Green Beans (Haricot Vert):
We microwaved all 24 oz of the French green beans in a bowl on high for a total of 6 minutes (stirring it a little bit after 4 minutes). We also sprayed a little bit of PAM butter flavor spray on them. They came out tasting slightly sweet, crunchy, and delicious.
Trader Joe's French Baguette:
Unfortunately, the French baguette tasted more bland compared to other french breads/baguettes I have had. The texture of the bread was hard on the outside and nice and fluffy on the inside, but it basically tasted like Wonder Bread with a hard crust to me.
Related