REVIEW – Trader Joe's Panang Curry Sticks (Frozen)
January 15, 2012 |
Post a Comment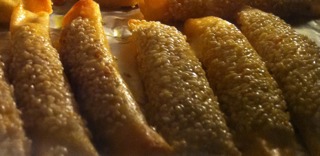 I had some Panang Curry Sticks from Trader Joe's. The box states they are filled with shrimp, fish, and vegetables in a spicy Thai curry sauce.
I cooked them in the toaster oven, and they came out nice and crunchy. They tasted like sweet (but not too sweet), crunchy shrimp spring rolls. They were a little oily, and they maybe had too many sesame seeds for my liking, but they were very tasty.
Update (2013): Unfortunately, I haven't been able to find these any more. It looks like Trader Joe's may have discontinued them.

from Trader Joes
Related