REVIEW – Gluten Free Boulder Canyon Sweet Potato Chips from Costco
January 18, 2015 |
Post a Comment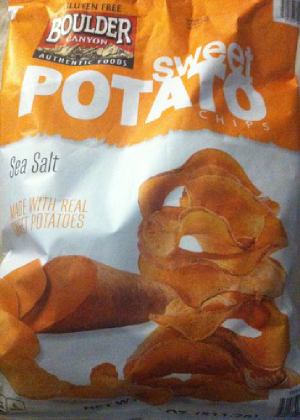 I bought some of Boulder Canyon's sweet potato chips with sea salt from Costco since it's hard to find sweet potato chips in a big bag, and the bag at Costco was bigger than others.
The sweet potato chips had a nice sweet potato flavor along with the sea salt, but, unfortunately, the sweet potato chips were way too hard. I don't know if it was supposed to be that way or if something was wrong with the bag of chips, but each time I ate a chip, I had to really crunch down, and I felt like my teeth would break off.
I really wanted to like these chips because I love sweet potato chips, and it's hard finding them in a big bag, but since I couldn't eat them, I ended up returning them to Costco.
Food:
Boulder Canyon Authentic Foods: Gluten-free sweet potato chips from Costco
Source:
Costco, Tucson, AZ
Rating:
OK (good, if you don't mind breaking your teeth.. and bad, if you do.)
Related