REVIEW – DiGiorno: Pizza & Boneless Wyngz (Three Meat Pizza & Honey BBQ Wings)
February 17, 2014 |
Post a Comment
I tried a frozen DiGiorno three meat pizza that came with a side of honey BBQ chicken wings ("wyngz"). When you open the box, there are three packages -- one with the pizza, one with the wyngz, and one with the wyngz sauce.
I followed the instructions on the box for cooking both the pizza and chicken at the same time. The pizza came out looking fine. The pizza sauce was a smooth sauce, and it was kind of bland and salty. The pepperonis on the pizza were also a little too salty. The crust was a OK - it was a thick, soft crust, and it was a little bit sweet.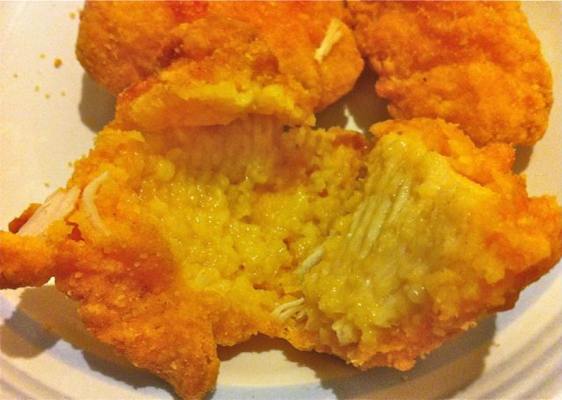 There were only six "wyngz", and they were very dry on the inside. The breading on the chicken was also very thick and not crispy, and they didn't taste that great. The honey BBQ sauce was OK and tasted very sweet like other honey BBQ sauces. I dipped the chicken in the honey BBQ sauce rather than pouring the sauce on top since it would have probably been overwhelmingly sweet if I poured the sauce on top.
Does DiGiornos pizza taste like a delivery pizza? No, it definitely tastes like a frozen pizza, and it doesn't even taste like a crappy delivery pizza.
Related